Britt Bravo of Have Fun * Do Good is hosting a Blog Carnival called How Does Your Nonprofit Have Fun and Do Good? Here are my responses to her theme!

Two ways that Urban Sprouts (a school garden nonprofit) has fun: by collaborating with these projects.

1. Meet the Greens. This is a website (with "webisodes" and a blog) about two middle school kids who are green. Literally. They have green skin and teach kids and adults how to take care of our environment. (OK, they're cartoon characters. But they seem really real!) What's really fun, is that they interview real kids about how they're working to protect the environment. Izz and Dex, the green kids, recently interviewed me and Walter, a middle school student from Urban Sprouts, so our interview should be published soon! Check back later in October.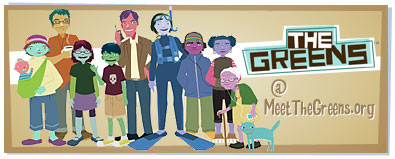 2. Trash Mash-Up. This local SF group helps kids make costumes and other really fun stuff out of trash! Our summer program kids made garden decorations (that also function as scarecrows/bird repellers) out of old CDs and cool masks out of old soy milk containers. Here we are wearing our masks!


We at Urban Sprouts try to keep ourselves, the "grown-ups" having fun as much as possible, too. The youth always keep us laughing--usually something to do with eating worms or salting snails. Our work really is fun--besides the youth, working in the garden, eating tasty food, and enjoying nature make us feel good. We love what we do! We take time to enjoy these things ourselves, by taking staff field trips to visit farms or other beautiful places that re-energize and inspire us. Some of our favorite spots are: UC Santa Cruz Farm & Garden and Life Lab, Occidental Arts & Ecology Center, and Hidden Villa.

To do good and have fun, you have to take time to enjoy yourself. For me, working with people I really care about and taking a moment to enjoy the garden in the peaceful early morning hours, before the school bell rings and the rush begins, is really the essence of fun.